These Small Home Improvements Can Pay Off Big When Selling
You don't have to drastically overhaul your home to increase its value.There are a few, easily manageable fixes that can add value and make your home more appealing to potential buyers. Try these small improvements to make your home more marketable.
Landscaping
ThisOld House points out that it's easy to overlook landscaping as you are updating or making improvements to your house. Overgrown trees or shrubs can turnoff prospective buyers before they even enter the home. Trim bushes,remove dead branches from trees and weed the garden so that the home looks well kept from the moment a buyer walks up to it. A few planters with attractive flowers can also add a welcoming touch.
NeutralColors
Neutral colored paints are more inviting to potential buyers. They make the home look fresh and allow the buyer to envision their own, unique style in the room. You don't have to paint the whole house. Paint areas that are high traffic and are showing wear and tear, and paint the rooms that had brightly colored paint, wallpaper or some sort of design. ConsumerReports found that updating your paint to neutral colors can add 1-2 percent value to your home.
EnergyEfficiency
Energy efficient or green upgrades are very significant to home buyers right now. Many will ask what the utilities are and what features are environmentally friendly. An energy efficient upgrade can be as simple as trading out traditional lightbulbs for LED bulbs. If you have more money to spend, you may want to upgrade your water heater,add solar panels, or replace toilets with low-flow toilets. Any time you can say the home has updated, energy efficient features, its value will increase.
UpdatedFixtures
Updated light fixtures are easy to find at a home improvement store and simple to switch out. If you lights are looking dated, the simple do-it-yourself job of replacing light fixtures, can make your home look newer and fresh. You can even add inviting outdoor sconces to your entryway and on the sides of your garage.
Bathroom
Bathrooms can be a big seller or deterrent for a lot of home buyers. You don't have to completely renovate, but you need to make sure it looks great. Deep clean your grout or re-grout if you need to. Add fresh calk around the tub and even replace the toilet seat, if it looks dingy. Some deep cleaning and minor replacements can make your bathrooms look more appealing.
Removing Popcorn Ceilings
Popcorn ceilings used to be everywhere. Now, most potential homeowners cringe at the thought of these ceilings. You can remove the ceilings yourself. It is not difficult, but it is tedious and messy. If your home was built before 1980 you may want to have it inspected for asbestos. According to Today'sHomeowner, asbestos ceilings left in place are not harmful, but when you are removing them it is possible to inhale the dust. If you have asbestos present, you will want to hire a professional to do the job.
Replace Hardware
You may not want to overhaul your kitchen or bathroom, but Realtor.com suggests updating hardware for a quick and inexpensive fix. Replacing your old hardware with updated, modern hardware can make your kitchen or bathroom look more inviting. Replacing hardware is much more affordable than replacing cabinetry, but will add an fresh feel to the home.
These small, inexpensive fixes can go a long way toward adding value to your home. You don't have to renovate your entire house to make it desirable to buyers. A little elbow grease and a small investment could help your home sell faster and closer to your asking price.
By: Elle Soles Ennis
Photo:"Paintbrush" by Alan Cleaver
Photo:"Grout" by Jesse Rodriguez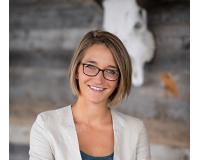 Author:
Elle Ennis
Phone:
970-531-3637
Dated:
July 7th 2017
Views:
953
About Elle: Elle is proud to be one of the few true Grand County natives you'll meet. Daughter of the Assistan...