The Power Of Donation
Striving for personal wealth is a natural healthy action we all participate in and typically has a positive effect on those around you. But how can you really share the wealth through donation if you aren't a millionaire?
It is simple. We forget we are filled to the brim with wealth even if we are struggling. Wealth can take the form of money, knowledge, time, care and support. If you have just one of these the freedom of donation can be a beautiful thing not only for the cause but also for you!
How about our wealth of monies hard earned? This is an obvious one typically used by the donator for tax deductions. In general any donation to a reputable charity of $250 or more can offer a deduction. The gift of monies hard earned (whether you receive a deduction or not) is priceless. What a beautiful way to support as most non-profits and charities need financial stability the most. Even if it is just $10 a month the power of every dollar makes a huge difference as you watch your organization of choice grow beyond belief and really make a difference.

What about wealth of free time? That is something that is scarce in our society and is something we need to create. Because of that simple fact nothing speaks louder than the donation of time. Whether it is counseling others that may share similar life stories and are struggling or simply holding a food drive for your local community the gift of your time and knowledge can be worth its weight in gold. One of the best ways to really make a difference!
What is the greatest wealth of all? Just the simple action of caring and supporting. Whether it is visiting with your local hospice patients that are without family or taking time out of your busy work schedule to host BINGO to benefit local charities the caring part is sure to please. You can be in the front line heading a project or simply keeping an ear open to a person in need. The care and support part is the start of something amazing within you and will shine on through in ways you could never imagine!

Donation. We all work hard for our money and our time. Here is a simple reminder to make the most out of your wealth not just for yourself but also for others!
Come join us at Carver's for BINGO in Winter Park Colorado every Saturday @ 6:30. It is an exciting opportunity to give back to our local charities spear headed by myself and Winter Park-Fraser Valley Rotary Club. This Saturday proceeds will be put towards "Grand Kids".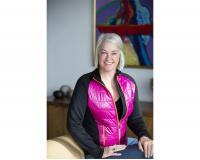 Author:
Shanna Lalley
Phone:
303-210-5241
Dated:
February 5th 2015
Views:
1,595
About Shanna: Realtor Since: 1995 Community: National Sports Center for the Disabled (NSCD) volunteer for 15 ye...