Stress Less This Holiday Season By Enjoying A Thanksgiving Dinner In Grand County
Stress Less this Holiday Season by Enjoying a Thanksgiving Dinner in Grand County
With every passing year, it feels like the holiday season arrives not just earlier, but with a stronger force. Moments after the Halloween costumes are folded up and pumpkins discarded, our television sets and daily commutes are suddenly bombarding us with unavoidable holiday advertisements from every last direction. While it's supposed to be a season of joy and festivities, those constant visions of sugarplums can surely have some adverse effects, leading many of us toward undesirable levels of stress when the calendar has barely flipped over to November.
But this time of year doesn't have to be stressful. In all honesty, it shouldn't be. Still, it's a season of obligations - be it tackling your holiday shopping list, making time to see all of your family and friends, or carefully planning that soon-approaching holiday dinner that arrives much quicker than Old Saint Nick.
With all of the attention on next month's holidays, it's easy to overlook the one that's about to be here. And although Thanksgiving may get the short end of the holiday stick between October and the New Year, if you've ever been responsible for putting together a Thanksgiving feast, then you know it's anything but a short process.
So why not ditch the responsibility this year? Instead of stressing, why not enjoy the holiday by letting someone else do all the heavy lifting for you? Plus, with one of Grand County's best starts to ski season in recent years, it's a pretty good excuse to get up here and take advantage of the early season snowfall too.
All around Grand County, restaurants put together delectable Thanksgiving feasts that not only honor the age-old tradition by way of turkey and cranberry sauce, but allow you and your family to enjoy everything you love about the holiday free of all the hassle. Below are just a few of our favorite Thanksgiving dinners around the valley, all of which help us locals spend more time with our family and friends, and less time stressing over the holiday season:
Winter Park Resort:Typically held at the Sunspot Lodge, this year's Thanksgiving Dinner will be held at Doc's Roadhouse while the ski area continues to make the final touches on the brand new gondola. From 5 to 9 p.m. on November 22, Winter Park Resort will host an all-you-can-eat dinner at their popular restaurant located in the Village. Everything from fresh dinner rolls and country style turkey will be served, with adult tickets priced at $35.95 and children 10 and under at $15.95. Space is limited, so be sure to make a reservation in advance at 970-722-5450.
Deno's Mountain Bistro:Starting at 1 p.m. on Thanksgiving, Deno's in downtown Winter Park will offer a special menu consisting of everything from a specialty holiday salad to a pumpkin pie dessert. Entrées will include the option of Slow Roasted Prime Rib for $36 or Herb Crusted Roast Turkey for $30, with each including sides of potatoes, stuffing, and more. Reservations are strongly recommended, so stop in or call Deno's at 970-726-5332 to guarantee a table.
Devil's Thumb Ranch: Devil's Thumb continues the tradition of their Thanksgiving at Heck's Tavern on November 22, seating individuals and families for a buffet style meal from 12 to 10 pm. Five separate seatings will occur, with the first at 12 p.m. and the last at 8 p.m. Although a little more expensive than other options ($60 per person/$30 for children), the menu is extensive, including everything from local and artisanal cured cheeses and meats to wild salmon filets. Check out their website for more details, or call 970-726-5632 to make a reservation.
The Creekside Eatery at The Crooked Creek Saloon: Offering a traditional Thanksgiving dinner from 1 to 7 p.m. on November 22, the Creekside Eatery has not only one of the more classic style holiday meals, but also one of the most affordable. At $28.99 for adults and $12.99 for children 6 to 11 (under 6 are free), you get an extensive all-you-can-eat menu, which includes everything from mashed potatoes and giblet gravy to pumpkin bread pudding (or pie, if you like). Prime rib and vegetarian options are also available, meaning everyone in the family will find something to enjoy. Be sure to make a reservation by calling 970-726-9250
No matter where you decide to enjoy your Thanksgiving—be it at one of our many restaurants, or from the comfort of your home—I hope that you and your family have a joyous start to the holiday season. There's certainly plenty to be thankful for here in Grand County!
By
Elle Soles Ennis - Broker Associate - Real Estate of Winter Park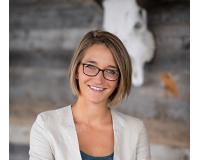 Author:
Elle Ennis
Phone:
970-531-3637
Dated:
November 14th 2018
Views:
361
About Elle: Elle is proud to be one of the few true Grand County natives you'll meet. Daughter of the Assistan...