Memorial Weekend In Fraser
Memorial Day is an American holiday that is always a bit 'bitter-sweet' in that there is both the joy of warmer and longer days, the anticipated opening of beaches, lakes, and community swimming pools by school kids as they take their final tests and exams and hand in the school books to await the official declaration to the end of another school year and start to summer. Memorial Day itself is a day when family, elder to youngest, gather around backyard barbecues for the traditional 'all-American' fare of hot dogs, burgers, potato and macaroni salad, watch local town parades, perhaps view community fireworks in the evening.


Amidst the happiness of being with family and friends is the sadness that there are some family members who cannot be a part of the parties and gatherings, except in spirit. Those brave men and women who in 'perfect charity' took up the fight against the enemies of good that would have brought our nation, the United States of America, to lose blessed freedom. God bless and protect our current military personnel of all branches of service: Army, Navy, Marine Corps, Air Force, Coast Guard, and National Guard as we remember our deceased veterans and our disabled vets in veterans hospitals with our prayers this Memorial Day and perhaps show gratitude in a tangible way with a donation to a bona-fide veterans organization.

That said, along with the gathering in personal backyards for traditional barbecues or enjoying picnics as many Fraser residents will no doubt be taking part in, there are also some community events, specific to Fraser, that are worth checking out. Re-live the life and times of the settling of Winter Park / Fraser and pioneer life in those first homesteads of the 1800s in Fraser Valley, of stagecoach travel, and pioneer ranching as found at the Cozens Ranch Museum, 77849 U.S. Highway 40, in Fraser. There is also the Kaufmann House Museum, a log house built in 1892 and operated as a hotel until 1946 until made a museum in 1973 by the Grand Lake Historical Society. Located on Pitkin Street and Lake Avenue in downtown Grand Lake, visitors can view early home furniture displays, clothing, dolls, early pioneer kitchens and early tools of the kitchen, and much more!

If looking for some Rootin,' Tootin,' Hootin,' Hollerin' lively events that speaks of the old time west, there is the High Country Stamped and Rodeo held every Saturday night to watch calf roping, barrel racing, bull riding, clown hijinks, and bronco busting. You might also want to try a hot air balloon ride given by Grand Adventures Balloon Tours, 220 County Road 522, in Fraser to get a birds eye view of the Continental Divide and the mountains, lakes, rivers and forests of the Rocky Mountain National Park. What an exciting way to view America, the beautiful!
Many will be hanging out the flag on their homes this Memorial Day with grateful heart for all our military veterans.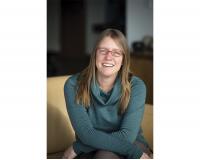 Author:
Erin Jeziorski
Phone:
970-281-9567
Dated:
May 17th 2018
Views:
647
About Erin: Following graduation with a Bachelor's of Science degree in Geology and Environmental Studies, I m...