How To Prepare To Buy A Home In A Busy Market
In 2016 The Denver Post informed that Colorado was the second fastest growing state in the United States. People are drawn to the natural beauty, adventure and warm culture in Colorado. More people moving to the state results in a busy housing market.
A busy market means that the supply of homes in an area isn't keeping up with the demand for homes. The Winter Park area is increasingly popular and homes are selling quickly. When you want the perfect home in the perfect location, you have to be prepared. Here are a few ways you can be ready so that you can own the home you want.
Have your finances in order
Before you begin looking, get pre-approval for a mortgage. With pre-approval you will know exactly what you can offer and you can make an offer as soon as you know you like a property. The Washington Post interviewed brokers that pointed out a pre-approval for a mortgage will give your offer more credibility. Sellers will have more confidence that you can come through on your offer.
Consider Cash
If you can offer more cash up front, your offer will most likely be favored. A larger down payment in cash demonstrates that you are serious about your offer and may entice the seller to work with you.
Be Ready Any Time
As soon as a house goes on the market, it could sell. Be ready to go look at a home any day of the week. Most people only have time to do their home shopping on the weekends. If you are available on the weekdays, you may have a better chance of being the first to put in an offer.
Tailor To Their Needs
Find out if the seller wants a quick closing or to move slower. Sometimes a seller will prefer a buyer who will give them a little extra time to pack up and move. Alternatively, other sellers may be anxious to close on their home. Be flexible and willing to accommodate the seller's closing timeline rather than imposing your own.
Be Flexible With Details
While you want to find a home you love, let some of the smaller details go. You can be specific about location and design of the house, but be flexible about the particulars. Appliances, paint, even flooring can all be modified after you but the home. Small, inconvenient demands of the seller, may encourage them to go with a different buyer.
Bid High
In a busy market you will have to put in a bid that is an enticing price. This means at least list price. If you want to ensure you get the house, you may want to go higher. You have to start with an attractive bid to secure the property.
Bid Quickly
You don't have much time to weigh all of your options when you are looking for a home in a busy market. When you find a home you like, you need to be prepared to put in an aggressive offer quickly. To get your ideal home, you will need to be confident about what you want and how much you are willing to pay. You may need to be able to put in an offer as soon as you've looked at a home.
Your Ideal Mountain Home
Even though Colorado is growing, Real Estate of Winter Park can help you find your perfect home base for all of your mountain adventures. With a few of these tips in hand, get ready to make an aggressive offer on a home that makes you feel comfortable and welcome.
Photo: "Colorado River Sunrise, RMNP 8-12" by Don Graham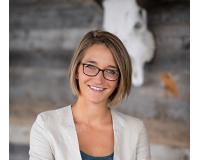 Author:
Elle Ennis
Phone:
970-531-3637
Dated:
May 3rd 2017
Views:
780
About Elle: Elle is proud to be one of the few true Grand County natives you'll meet. Daughter of the Assistan...