Five Tips For Organizing Your Finances Before Buying Your First Home
Buying a Home for the First Time? Five Tips for Organizing Your Finances
Buying that first home is an exciting milestone in anyone's life. Unfortunately, it can also be a stressful one. After all, a home is a huge investment, and coupled with existing bills and debt, the process can feel rather daunting. But with a little bit of patience – and a little bit of homework – buying your first home doesn't have to leave you and your family in a financial crisis.
Here are five steps to help organize your finances and ensure that your first home buying experience is a positive one:
Check Your Credit
In an effort to gauge the potential risk involved, lenders use credit scores, also referred to as FICO scores. It's not only important that you know where your credit score stands, but also that it's a positive – or higher – number. The better your credit, the better your mortgage rate, and lenders typically reward those in the 700 or higher range. But if you fall short of this number, don't hit the panic button just quite yet. By paying down debt and correcting past mistakes, you can get back on track. Which leads us to the next tip:
Manage Your Current Expenses
After checking your credit score, follow up by managing your current expenses and ensuring you stay on track. This includes paying bills on time and paying down a majority of your existing debt – everything from credit cards to those lingering student loans and outstanding medical expenses. While the latter two tend to be more acceptable, try to get your credit card balance as close to zero before scheduling a visit with your lender.
Save
While this tends to go without saying, it's a factor that cannot be stressed enough. The more money you can save, the more money you can pay up front, meaning the less you'll need to borrow. Just be sure not to put all your money into a down payment – lenders will want to see that you have some cash reserves in the bank, and it's not uncommon for those closing costs to add up. A 20% down payment is a good place to start and will typically prevent you from having to pay extra in mortgage insurance.
Organize Your Financial Documents
Before you can start checking out homes, you'll first need a mortgage pre-approval. Documentation of your current income, debt, expenses and assets will dictate the rate, so make sure you have all of this information collected in advance, along with your estimated down payment as previously discussed. Plus, getting your paperwork in order will only help you personally with understanding what kind of home you can afford and assist in dialing in everyone's expectations.
Visit a Financial Advisor
When buying your first home, no one expects you to be a real estate guru, so you shouldn't either. Which is why it's never a bad choice to seek some professional financial advice. An advisor is a great resource for reviewing your current income, expenses and budget, and can provide a realistic set of expectations for you and your future home. Together, you can make a game plan to best suit your financial situation and ensure that you don't get in over your head.
So before you get too bogged down by the financial stress of buying your first home, take a deep breath and remember to keep these five tips in mind. Taking control of your finances – especially when buying your first home – can be a nerve-wracking experience, but it should also be a rewarding one. With a little bit of research, the right budget and the right expectations, you'll be well on your way.
Written By: Elle S. Ennis, Realtor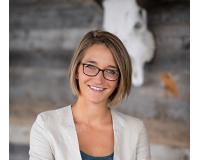 Author:
Elle Ennis
Phone:
970-531-3637
Dated:
September 7th 2017
Views:
416
About Elle: Elle is proud to be one of the few true Grand County natives you'll meet. Daughter of the Assistan...