Early Appearance Of Bears In Winter Park Colorado
Most of the time, bears in Winter Park find their way out of hibernation in the spring. Male bears usually come out first, near the end of April. Females come out a little while after, typically in the beginning of May.
Of course, this isn't always true. This year, bears have been spotted out of hibernation already. It's important that we know what to do if we see a bear. We also need to consider the ways that we can protect the bears and the other wildlife in our area.
Usually, when bears do attack, it's because people have provoked them. Bears are not out hunting for humans; they're simply searching for food. When people see a bear on their property, they get scared or have no idea what to do. If you're panicked, you could startle a bear, which could result in an attack.
It's natural for people to be fearful when they encounter a bear, but there are some helpful steps to take for the safety of yourself, the bear, and the rest of your community.
If you are outside with the bear, you need to make sure that the bear sees you. Do this calmly without surprising it. You can talk quietly while doing this, which will be a reminder that you are near the bear. Remember not to yell or scream, which might scare the bear.
You will also want to back away slowly. It's necessary to walk backward, because you need to see the bear's reaction. If they change their posture, follow you, or walk the other way, you should know. Keeping your back to a bear is never a good idea, even if they aren't out to get you.
As you are backing away from the bear, you should wave your arms slowly. Keep these motions at the same slow pace and avoid sudden movements. Usually, people are able to get away from a bear by doing this.
Some residents will be quick to try to shoot or trap a bear. It's important to let a bear get back to their home though, so you need to give them space to leave your yard. The reason that they are in your yard is because they are looking for plant life to eat. Black bears tend to eat berries, plants, fish, and small mammals. Most of them aren't looking to eat humans.
Bears will often be drawn to yards with food available to them. If you grill out, bears might be attracted to your yard. The same goes if you have food scraps outdoors, bird feeders, a compost pile, or any other potential food sources in your yard. You should never feed bears for your entertainment.
It's best to keep any food picked up and out of the way of bears. This will keep them out of your yard, which will help you to feel safer. It will also protect the bears from developing unbearlike behaviors due to being fed.
If you happen to see a bear in your yard while you're indoors, go out later to figure out what drew them in. Most of the time it will be one of the food sources listed above. Try your best to manage the trash that you put out so that you aren't luring bears in. It's important that they stay in their natural environment and receive little to no interaction with humans.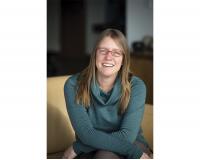 Author:
Erin Jeziorski
Phone:
970-281-9567
Dated:
April 14th 2018
Views:
1,660
About Erin: Following graduation with a Bachelor's of Science degree in Geology and Environmental Studies, I m...