Do You Want To Fly
(by Amanda at Real Estate of Winter Park)
….or at least come as close as you can to flying? I just did the new Zip Line located at Devil's Thumb Ranch yesterday with my mother who is visiting the area fromIndiana. It was all her idea actually. The week prior, we were enjoying the Devil's Thumb happy hour with family and friends on the back patio at Heck's Tavern – you must do this, best deal in all ofGrandCounty if you ask me. The views are amazing, beers are $1, wine is $3, live music and terrific $4 small plates of food. The kids were running around in the meadow and playing volleyball, while we enjoyed our second glass of wine. That is when we saw a group of adventurers walking out of the yurt all dressed in their Zip Line gear – helmet, harness, etc. My mom was hooked. We investigated and booked a trip for all 5 lines.
So, yesterday was Zip Line day, the day I felt as if I were flying through the air. We got to be those adventurers coming out of the yurt with a helmet and harness. It was an amazing morning. Fog filled the air, a slight chill and 5 strangers all packed into an old army jeep heading up to what seemed the top of the mountain. We started with line 1 which is only about 340 feet long and speeds reaching about 18mph. At the end of the platform, you walk the short path through the forest to the next zip. Each line gets longer and faster, with the last line, called High Lonesome, taking you on travels of over 1600 feet and reaching speeds of 40mph! That's like traveling down a major hill on my road bike. IT WAS AWESOME!
Mom and I couldn't stop smiling, taking pictures and laughing with our 5 new friends.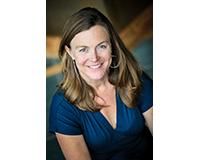 Author:
Lisa Leclair Waldorf
Phone:
970-531-1608
Dated:
August 15th 2012
Views:
3,830
About Lisa: Realtor Since: 1999 Community: Past president Grand County Board of Realtors (GCBOR); head fund-r...