5 Healthy Tips For High Altitude Travel
Go High and Stay Well: 5 Healthy Tips for High Altitude Travel
TheRocky Mountains reach great heights! Colorado boasts 53 mountains over 14,000 feet. They are affectionately referred to as 14ers. Even if you don't plan to climb a 14er, many of Colorado's mountain towns are situated at high altitudes. Winter Park sits at 9,052 feet.In order to have fun and stay comfortable while you are traveling,you need to be aware of some of the effects of high altitude and how to address them.
Understanding Altitude Sickness
WebMD explains that altitude sickness occurs because the air is thinner at high altitudes. Oxygen is not as abundant as it is at lower altitudes and it takes your body time to adjust. Most cases of altitude sickness are mild. Symptoms of mild altitude sickness are headache,difficulty sleeping or excessive fatigue. Slightly more uncomfortable symptoms include nausea and dizziness. If altitude sickness becomes severe, it can cause confusion, faintness, and blue or gray lips.Severe symptoms of altitude sickness should be treated immediately by a medical professional.
There are a few ways you can avoid altitude sickness or diminish its symptoms.
1) Stay Hydrated
The best way to prevent altitude sickness is to stay hydrated. You will need to drink more water than you usually do to stay well. Always carry a water bottle with you. Avoiding caffeine, sugary drinks and alcohol can help prevent dehydration and encourage you drink enough water. You can also eat snacks that have a high water content.Grapes, watermelon and cucumbers are excellent high altitude snacks that can keep you hydrated and stave off hunger.
2) Plan Time to Adjust
Many travelers also like to plan an extra night in Denver. The "Mile-High City" is situated around 5,690 feet. Spending your first night in Denver allows your body time to adjust in increments. You will be ready to ascend to higher altitudes when you plan a little extra time and start there. You may also want to start taking Tums on your way up. This may help fight off any nausea.
3) Use Extra Oxygen
Should you need it, oxygen is often available at sporting goods stores and even local grocery stores. It comes in a small can and it is easy to use. There are also oxygen delivery services, such as OxygenTo You that can deliver nonprescription oxygen to use during your vacation. Many travelers find it most difficult to breath at night, when they lay down. You can use this oxygen during the night to help you rest more comfortably. You can also use pillows to prop yourself up. This makes it easier for your lungs to take in air.
OtherFactors to Prepare For
In addition to altitude sickness, there are a few other factors to be prepared for when vacationing in the mountains.
4) Stay Sun Smart
The sun is intense. A thinner atmosphere does a poor job of blocking theUV rays that cause skin damage and eye damage. It is important to wear sunscreen any time you are outside, even if it is cloudy. You may also want to wear long sleeves. A wide brimmed hat will help protect your face, ears and eyes. UV blocking sunglasses will also protect your eyes and the sensitive skin around your eyes. Snow also reflects the intense sunlight, so be sure to put on sunscreen and wear goggles to protect your face and neck in the winter.
5) Plan for Weather
Weather fluctuates quickly in the mountains. A cloud blocking the sun can reduce the temperature in a few moments. Storms sweep through suddenly and with intensity. Wind, rain or snow can come up unexpectedly anytime of year. The best way to be prepare for this is to dress in layers. When you are hiking carry a rain jacket and a warm layer, such as fleece. Around town, keep a sweatshirt with you so that you aren't uncomfortable. Plan for it to get cool after sundown. You may want to keep a hat and light gloves handy, even in the summer.
In the summer, at high altitudes, storms usually roll in during the afternoon. If you are planning to summit a 14er or even go for a moderate hike, it is better to start in the morning so that you can be off of the top of the mountain by the afternoon.
The Rugged Rockies
It is the ruggedness of the mountains that makes the Rockies so stunning and alluring, but that ruggedness can also pose challenges. With a little foresight and planning, you can avoid the difficult aspects of high altitude travel.

Photo, "Byers Peak" by Elle Soles Ennis, Realtor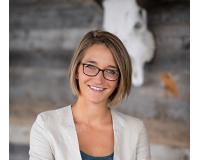 Author:
Elle Ennis
Phone:
970-531-3637
Dated:
April 27th 2017
Views:
831
About Elle: Elle is proud to be one of the few true Grand County natives you'll meet. Daughter of the Assistan...