4 Bar 4 Ranch Project
Every day, sometimes multiple times a day, I drive down the historic 4 Bar 4 road (known now as County Road 5), and pass by my favorite scene just outside my Stagecoach Meadows neighborhood. The old Hay Barn and the 4 Bar 4 Ranch barns which originally served as the stagecoach stop and even a Ford car dealership! Can you even imagine? This past summer, my dad (a Grand County second home owner), other volunteers from near and far and a team from HistoriCorps in Denver completed the rehabilitation of the Hay Barn. It was deteriorating immensely and was in risk of total collapse. About a month ago, we hosted part of our 10 year old son's birthday party on a picnic table under the roof of the barn so the kids could enjoy the meadow, fish in the pond and enjoy a piece of history. Everyday, and the closer we get to hopefully another epic snowfall season, I worry about the state of the stagecoach barns. Those roofs don't look so stable anymore. It's likely that once a week I see a car pulled over on the side of the 4 Bar 4, snapping a picture or two of these iconic structures in the Fraser Valley. Last fall, we took our annual family photo with the barns as a backdrop. I have one from that photo shoot of my three kiddos in front of the Hay Barn and The Divide in the background, blown up on a canvas hanging in our house. It's gorgeous, if I do say so myself! These two buildings which were built in 1895, are now listed on the Colorado Preservation, Inc. list of endangered places. I encourage you to take a drive down the 4 Bar 4 next time you are in the Winter Park/Fraser Valley. You will love it and I'll likely wave to you as I drive by while you are taking a picture! Check out the Preservation's website for information on the stagecoach stops or click here to see the work from HistoriCorp...maybe you'll even be inclined to volunteer next time and be a part of history.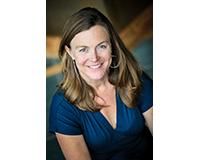 Author:
Lisa Leclair Waldorf
Phone:
970-531-1608
Dated:
October 13th 2014
Views:
2,364
About Lisa: Realtor Since: 1999 Community: Past president Grand County Board of Realtors (GCBOR); head fund-r...