The Beginning Of A New Way Of Life
During this time in our lives, it is so easy to focus on all the negative things surrounding our communities. Our lives as we knew them have completely changed because of the COVID-19 pandemic. Despite the change, fear and loss everyone is experiencing, there are also positive outcomes of this virus.
Image provided by Dissolve
In a short period of time, major cities all around the world are seeing a drop in pollution and greenhouse gas emissions. They are seeing cleaner air, cleaner water, and major positive impacts on the environment. With the streets and canals clear, Venice, Italy is seeing crystal clear waterways, clear enough to see the fish at the bottom. This is a drastic change from the dark and murky waters that filled these canals for centuries.
Italy isn't the only country seeing these changes. A New York scientist at Columbia University reported a 5-10 percent drop in CO2 emissions this week as traffic levels have fallen 35 percent. While in China, in the image below, you can see the drastic decline in nitrogen dioxide that filled China's air, because of the quarantine and economic slowdown.
Image provided by NASA Earth
Not only are we seeing the environment benefit from this change in the world, we are also seeing communities and families come together like never before. Local businesses and organizations are pulling their resources and working together to help locals and businesses stay afloat, families are spending more time together, and everyone is adapting and adjusting to our new normal… together.
Elle Ennis | Broker Associate | Real Estate of Winter Park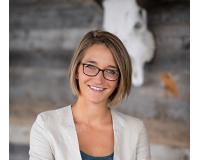 Author:
Elle Ennis
Phone:
970-531-3637
Dated:
April 7th 2020
Views:
19
About Elle: Elle is proud to be one of the few true Grand County natives you'll meet. Daughter of the Assistan...