No Need To Fear Quarantine Ideas Are Here
Here are some fun ideas for you to do at home during the COVID-19 Pandemic!
Re-arrange your furniture – freshen up the look of your place with a new perspective and a new layout! Maybe restore a piece of old furniture while you're at it.
Learn a new card game – challenge yourself and others by learning games like Euchre, Cribbage, or Bridge, just to name a few! Winning is always fun.
Bring out your old arts and crafts – get creative and have fun with it! Whether it's painting shoe boxes (see our masterpieces below) or getting out that old coloring book, you'll be sure to have fun with this one.
Give a loved one a hair cut – after all, if you mess up, they probably won't be seeing many people during their quarantine!

Learn a new language – many are offered free online, try searching YouTube for hundreds of clips and tips!
Come up with your own recipe or cocktail – access the thousands of online tutorials and master your own!
Research a future endeavor – at some point or another, we've all thought about things we want to accomplish in our lives. Take this time to research and when the time comes, make it happen!
Teach your pet new tricks – if you're lucky enough to have a furry friend, spend this time teaching them to give you a high five or roll over!
Flex your green thumb – take this time to brighten up your life with colorful flowers and nutritious veggies!
Organize in a virtual book club – more downtime means more time to read! Come together virtually with friends, family or coworkers through a FaceTime meeting.
Adopt a new pet – with all the attention a puppy needs, now would be a good time to adopt a pet. Who doesn't like more cuddles?!
Take an online workout class – to some, a gym can be a little more intimidating, take this time to master your at home workouts!
I hope you all are staying safe and healthy, while having fun and using this time to pick up a new hobby! If you have any great ideas to fill your time, reach out to me! I would love to hear them.
Elle Ennis | Broker Associate | Real Estate of Winter Park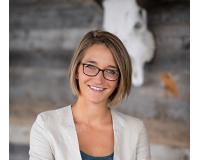 Author:
Elle Ennis
Phone:
970-531-3637
Dated:
April 4th 2020
Views:
38
About Elle: Elle is proud to be one of the few true Grand County natives you'll meet. Daughter of the Assistan...