Escape To The Office While Youre Visiting Your Second Home
Need to Escape to the Office While You're Visiting Your Second Home? Winter Park Now Has Just The Place...
For anyone who works from home, they can understand the struggle that comes along with working where you live. Whether it's kids, pets, or even just the thought of an afternoon nap in your welcoming bed, there's an endless list of distractions that can inhibit motivation and the free flow of creative juices. Even with a dedicated workspace or home office, it can still be painstakingly hard to sit down and flip the switch to work mode.
And when that same person needs to get a little work done from their second home, the level of distraction can rise significantly—especially when that home is in a stunning place like Winter Park, Colorado, where pristine mountain views are constantly taunting you just outside the window. It becomes increasingly hard to flip the switch to work mode when you feel like the autopilot is constantly stuck in vacation mode.
Which is what makes the introduction of Blue Arrow—a brand new co-working space in the heart of downtown Winter Park—all the more exciting.
Sure, we understand that your time in the mountains should place outdoor activities and relaxation at the top of your priorities, but for the entrepreneurs who are never truly not working and the creative types who never know when the creative faucet may just open up, a designated office space is a welcomed place to escape. Especially when you're hours, if not more, away from your office—whether that's an actual office, or that work space within the comforts of your home.
Through a partnership with Green Spaces, which is based in the RiNo District of Denver, Blue Arrow provides a collaborative space for you to get work done alongside like-minded entrepreneurs—similar individuals who appreciate time spent in the great outdoors as much as they do innovating and expanding their personal businesses and ventures.
Offering a number of membership packages to fit everyone's budget, Blue Arrow's co-working space possesses everything you need to step outside of your vacation mode and kick it in to work mode. From personal workstations and conference rooms, to complimentary coffee and tea, you'll feel like you're at the office while still being just steps away from the outdoor activities that brought you here in the first place. And like every work space in the mountains should be, Blue Arrow is even dog friendly, meaning you won't have to worry about running back to the house to let ol' Sparky out.
And I know what you may be thinking. While the coffee shop method may have treated you just fine for years, how many times have you struggled to get work done when that quiet atmosphere suddenly turns into a huge social gathering? Or how about when your laptop battery starts running low, but all of the available outlets are currently in use?
Plus, sharing a designated workspace with a similar but diverse array of individuals—be it other second home owners, a first-time visitor to the area, or perhaps one of our friendly locals—you may just find yourself building an unexpected network of future resources.
At the very least, you may just get some tips on where the best bike trails or fishing spots are, because hey, you can't work the
entire
time you're up here.
Written by: Elle Soles Ennis - Broker Associate - Real Estate of Winter Park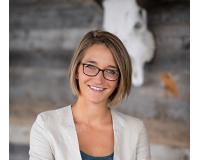 Author:
Elle Ennis
Phone:
970-531-3637
Dated:
August 14th 2018
Views:
616
About Elle: Elle is proud to be one of the few true Grand County natives you'll meet. Daughter of the Assistan...